Chefs
Brandon Chrostowski C

ommunity

K

itchen Partner
Brandon Edwin Chrostowski is the founder, president and CEO of EDWINS Leadership & Restaurant Institute, his mission-driven effort to hire former prison inmates and train using fundamental French techniques. EDWINS has created a national model for re-entry and an educational pipeline for the formerly incarcerated to learn the discipline and skill of fine dining. With a one percent recidivism rate, EDWINS provides more than 100 formerly incarcerated adults with free culinary and hospitality arts training each year. EDWINS also offers a virtual curriculum to over 400,000 inmates at prisons across the country, and on-site programs at Grafton Correctional Institute and Cuyahoga County Juvenile Detention Center.
Since founding EDWINS in 2007, Chrostowski has also created the EDWINS Second Chance Life Skills Center; a campus that includes housing, a library, kids park and garden; and the EDWINS Family Center, which provides free daycare to EDWINS students. Chrostowski's also opened Edwins Too, EDWINS Butcher Shop, and EDWINS Bakery and Diner. All establishments offer deliciously affordable dining opportunities and provide careers for EDWINS graduates.
Recognitions include 2023 James Beard Finalist; IFMA's 2020 Silver Plate, CNN 2016 Heroes, Crain's "40 under 40" Awards; The Richard C. Cornuelle Award from the Manhattan Institute for Social Entrepreneurship. Chrostowski was also the subject of the Academy Award nominated documentary Knife Skills – a short film following the opening of EDWINS.
Chrostowski resides in Cleveland, Ohio with his wife Catana and their children, Leo, Lilly, and Lynx.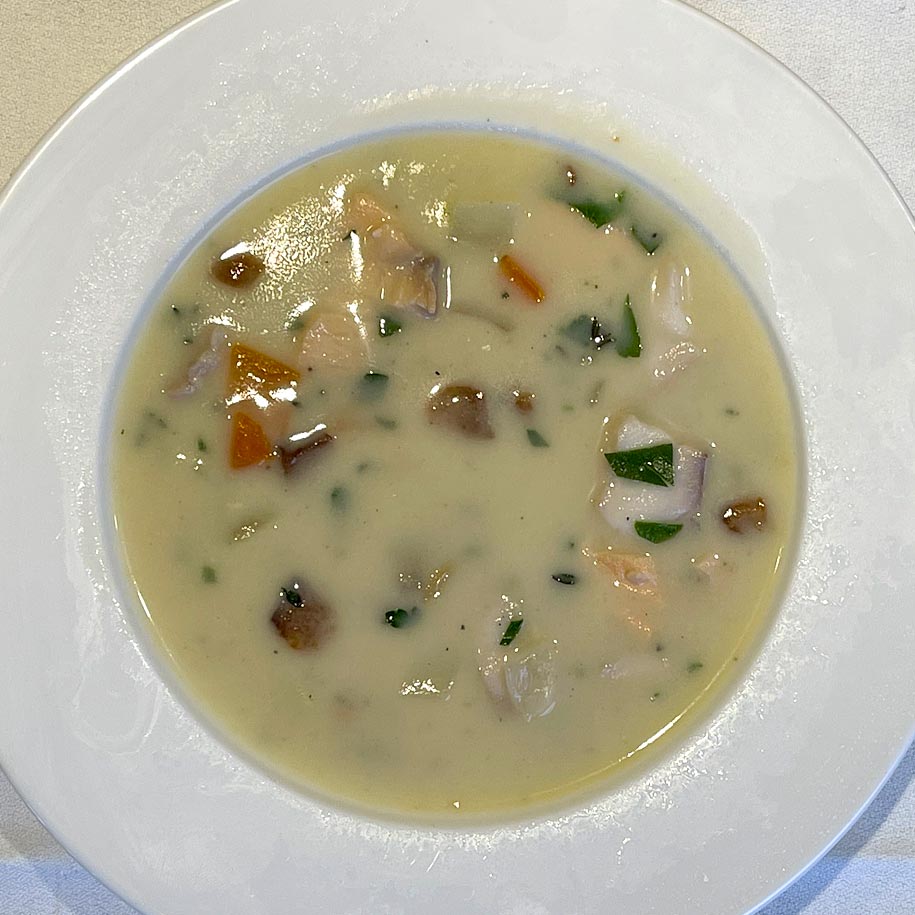 I'm a classically trained chef who worked in fine-dining restaurants before founding EDWINS culinary and hospitality training program for the previously incarcerated. We teach classically French technique and are grateful for the support of the Jacques Pépin Foundation. I met Jacques for the first time this year and he was kind, polite, and made everyone in the room, including me, feel so comfortable. I want to share my seafood chowder recipe, originally made with Chef Charlie Trotter, with him. I know he enjoys seafood of all kinds and to me this chowder exemplifies finesse and restraint, which reminds me of Jacques. Bon Appetit!
View This Recipe